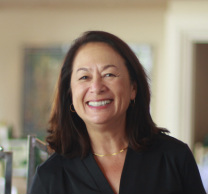 Pamela Koide Hyatt, has been exploring and growing Bromeliads, with an emphasis on Tillandsias for more than half her life. Since starting Bird Rock Tropicals in 1981, Pamela has traveled extensively throughout Mexico, Central and South America in search of tillandsias. During these travels she has discovered more than a dozen species new to science as well as many more natural hybrids. Experiencing plants in habitat and growing for more than 35 years gives her a unique insight into this amazing genus.

Pamela soon began growing from seed and hybridizing tillandsias. It can take up to two years for the seed to be ready to harvest, and growing the plants to maturity can take anywhere from three to twenty years. Of the more than 3000 hybrids that were made, many have bloomed for the first time over the past few years.

One of these hybrids, Tillandsia Samantha, was nominated for 'Plant of the Year' at the RHS Chelsea Flower Show in 2012, and in 2013, Tillandsia Samantha won the 'Glass Tulip Award' in the category of houseplants. The Glass Tulip Award is one of the most prestigious awards in Horticulture awarded by FloraHolland.

Additionally, Pamela is an International Accredited Bromeliad Master Judge and has served as President and newsletter editors of both the San Diego Bromeliad Society and the North County Bromeliad Society. She has served as a Director of the Bromeliad Society International (BSI), and Publications Chairman for the BSI, and currently, the Editorial Advisory Board for the Journal of the Bromeliad Society (BSI). She recently completed nine years as a Trustee at the San Diego Botanic Garden.

In 1992 she contributed to the revision of the BSI Cultural Manual and in 1998, Pamela revised and compiled
A Bromeliad Glossary, published by the Bromeliad Society International. Pamela has been a keynote speaker at the Australian Biennial Conference in 1998, 2003 (in New Zealand), 2007 and 2015, the Japanese Bromeliad Society in Tokyo, 2001, HortPark in Singapore 2015, the WBC Hawaii in 2014, and numerous local societies and plant clubs in the United States.

Pamela has consulted on a several different botanical projects. These include consulting not only at private gardens, but Botanical Gardens in Thailand, Singapore, Santa Barbara, Los Angeles and San Diego, as well as hotel installations at the Mirage, Bellagio and MGM in Las Vegas.

In 2014 Pamela published Tilli-Cards™, a set of 100 reference cards for species and hybrid tillandsias. In 2015, Pamela created and developed the first Application for IOS smart phones related to Tillandsias. The app,Air Plant Tilli-Cards, is a reference guide to the identification and cultivation of Tillandsia air plants. The app can be easily updated to include most species and many common hybrids.